Freestyle (Stylized as FREESTYLE! in Dance Central & Dance Central 2) is where the player or players can do whatever they want to do for a brief amount of time in Dance Central & Dance Central 2. In Dance Central,when the Freestyle card pops up, the player/players will be a mix of colors and they get to dance whatever stuff they want to do. A camera will be there and it will go 3,2,1, and then the camera will be on,flashing while the player/players are dancing. At the end you get to see what the player/players did as it rewinds and fast forwards it very quickly. The player can disable the playback. When the freestyle is over, it will either say Nice Freestyle! or Flawless Freestyle! depending on how much energy you did. At the end of the routine, the player can see the photos but the photos cannot be saved.
In Dance Central 2,the process is very similar with the only exceptions being that the player or players will look like their body shape in a tiny circle form,they will be in a mix of colors but they won't change,the background is darker & at the end,the person/people will have a bunch of lines behind him/her/them. Freestyle can be disables on DC2 and DC3.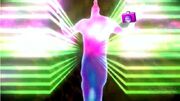 References
Ad blocker interference detected!
Wikia is a free-to-use site that makes money from advertising. We have a modified experience for viewers using ad blockers

Wikia is not accessible if you've made further modifications. Remove the custom ad blocker rule(s) and the page will load as expected.